Saturday at Auckland Startup Weekend and the room is buzzing. Working against the clock to create a business in 54 hours every person in this room in engaged. Teams are creating prototypes, validating concepts, cutting code and business plans on lean canvas and talking to customers. Meanwhile, mentors encourage, support and provide the models and best practices required to prove the idea and make these business fledglings investment ready. The buzz is incredible, the tension palpable.
The Facts
115 participants and mentors
40  ideas pitched
12 teams formed
More female participants than ever before
100% over subscribed (another booked for November to meet demand)
Auckland  is running alongside Startup Weekend events in five other cities including Shenzhen, China; Tokyo, Japan; Cagliari, Italy; Corvallis, USA and Nancy, France
The ideas are exceptional and the companies forming are:
| | | | |
| --- | --- | --- | --- |
| Safety App | Team Selecta | MenuSpy | Wedding Advisor |
| Capacity Connector | RideWith | WeCompare | Moxie |
| Gifta | Travel Box | Buzzsta | Progress Report |
Partners
The real life benefit of Auckland Startup Weekend Sponsorship is evident everywhere. Mothership is ensuring massive volumes of data are streaming up and down without a hitch. Teams setting up websites for their prototypes are using Amazon vouchers available to each participant and .co means everyone begins with a sexy domain name. The Emirates Team New Zealand venue (ATEED) overlooking the harbor, the water and the hustle and bustle is both conducive to smart thinking and inspiring too.  Vend, Lowndes & Jordan and Iwantmyname are in the room and providing the professional real world advice participants need to stay in the game. Teamworkpm made sure that teams started with good organisation and we all know how important it is to make a good start.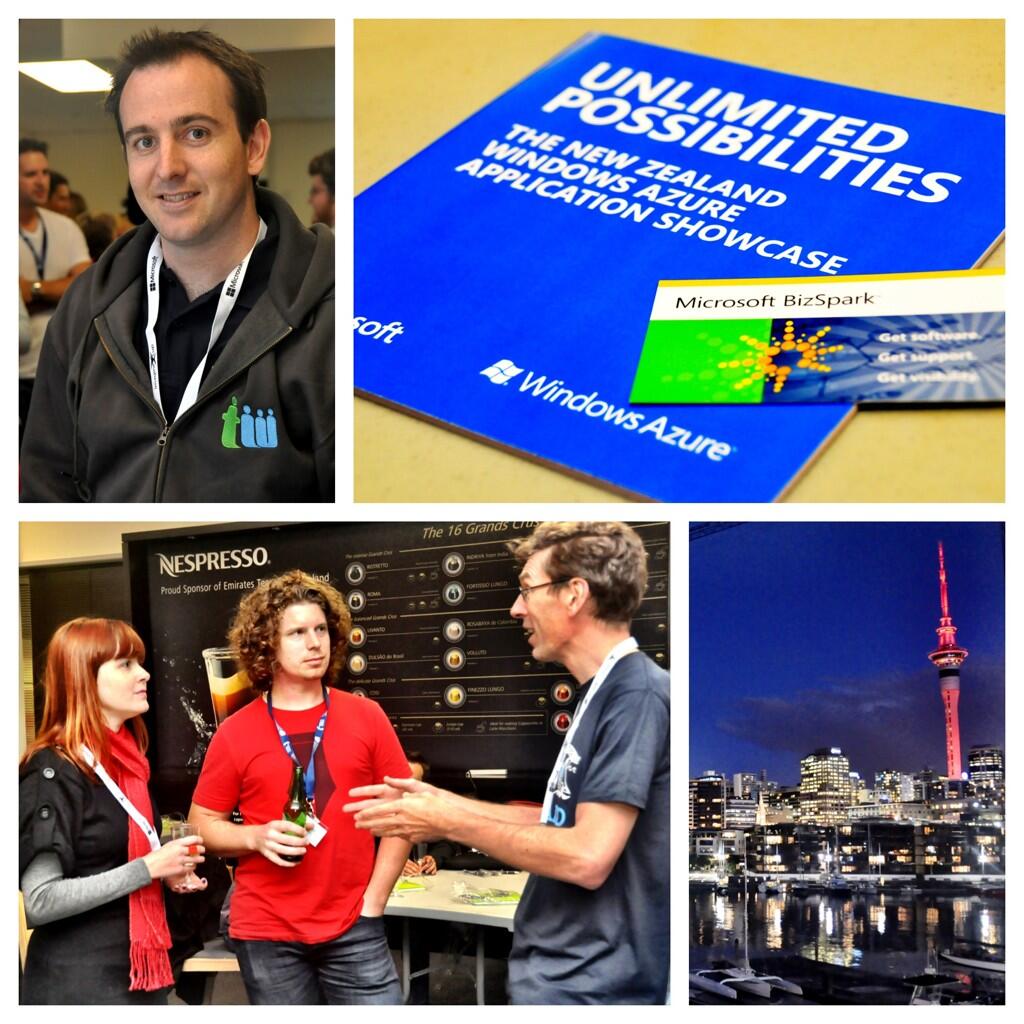 All that Jazz
Then there's Jazz. Jazz is the Auckland Startup Weekend security guard. She wasn't hired but generously provided by Emirates Team New Zealand to cover our event. She is doing way more for Auckland Startup Weekend than she has to but there's more to this story than that, because Jazz, the unexpected Startup Weekend participant, is what this is all about at a grass roots level. Jazz had never heard of Startup Weekend before yesterday, but guess what? Jazz has ideas. Sometimes she feels slightly isolated amongst friends and family who don't quite get it when she starts going on about wanting to create this and build that. Sound familiar? Had Jazz known that this resource existed she would have come to Startup Weekend to pitch an idea a long time ago. Fate is like that, we are betting Jazz will be at the November Startup Weekend.
Saturday at Auckland Startup Weekend is producing awesome results and massive learning experiences. It's collaboration at its team and business building best.
Stay tuned: RadioLIVE's popular weekend programme Sunday Business, presented by Andrew Patterson, will broadcast live from start-up weekend on Sun, 12 May between 11am and midday.
Our Wonderful Sponsors….